Power Tools
Synergy-X-Pro Power Tools
LI-Ion technology

Synergy-X-Pro Power Tools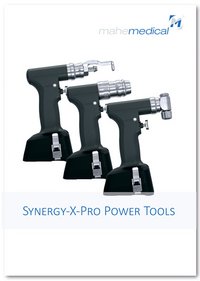 LI-Ion technology directly in the motor

Reliability, durability and power are among the most significant factors that make an orthopedic, traumatologic power tool. These factors are more than attained by using the Synergy-X-Pro tools.
1 PowerPack for all machines
Motor, electronics, soft ware and battery in one pack for all tools.
Drill system
Cordless Drill System
Easy to use
Ergonomic design
Simple, compact battery packs with high capacity
Small, robust drill with an extensive range of attachments
Steam-sterilisable